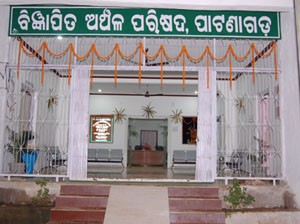 The N.A.C., Patnagarh was constituted during the year 1962 as per Government in L.S.G. Department Notification No.-9136/Dt.11.09.1962 and O.M. Act.-1950 come into from w.e.f. dt.11.04.1962. The boundary wall was subsequently revised in accordance with Government in Housing & Urban Development Department Notification No-1245/Dt.12.01.1971 as per details noted below.
Location Deatils
Patnagarh is located on 18'-9" and 21'-11" north latitudes and 82'-41" and 84'-16" last longitudes . The Patnagarh town has the temple of Kosaleswar Mahadev, Samaleswari and Patneswari. The temple Patneswari contains some interesting sculpture. A high plat-form with a flight of slips said to be the throne of old rulers of estate is found near the temple. The town was once the capital of Bolangir rapidly lost its importance after shifting of the head quarter in 1872.
Population
The Geographical area of this N.A.C. is 18,26 Sq.kms. The population of the N.A.C. is 21,024 (Male: 9533 and Female: 9152) as based on 2011 census.
According to 1951 Census ------5900
According to 1961 Census ------7592
According to 1971 Census ------10,085
According to 1981 Census ------13,578
According to 1991 Census ------16,246
According to 2001 Census ------18,658
According to 2011 Census ------21,024